Home > NY > Spring Valley Lawyers > Shmuel Klein
SHMUEL KLEIN Lawyer in SPRING VALLEY, NY
CONTACT INFORMATION
Bleichman-Klein
Address:
268 W ROUTE 59
SPRING VALLEY
,
NY
10977-5448
Phone: 845-425-2510
Website:
bleichmanklein.com
Firm Description:

BLEICHMAN-KLEIN is located in SPRING VALLEY, NY and employs 5 TO 9 people .
The firm has a sales volume in the range of $1 TO 2.5 MILLION.
Reviews of SHMUEL KLEIN
There aren't any reviews of this lawyer or firm.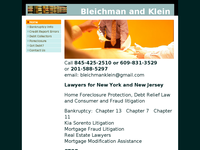 Updates
3/8/15: Updated website and email